>>
宜鼎国际DDR5 WT UDIMM工业用闪存模块
宜鼎国际DDR5 WT UDIMM工业用闪存模块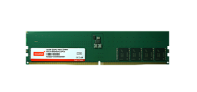 产品简介:
宜鼎国际DDR5 WT UDIMM工业用闪存模块
产品分类:
工控机 工控机配件 存储产品
品牌:
宜鼎国际
产品介绍
产品特色
Fully Tested and Optimized for Stability and Performance
Uses Original IC to Meet Strict Industrial Standards
On module Power Management IC (JEDEC Standard: 1.1V)
Operating Environment: -40°C ~ 95°C
30μ" Gold Finger
Anti-Sulfuration Protection Against Harsh Environments
RoHS Compliance
CE/FCC Certification
Overview:
The JESD79-5 DDR5 SDRAM specification has significant improvements in capacity, speed and voltage. By structure wise, the Power Management IC (PMIC) is moved onto the DIMM, reducing redundant power management circuitry on the motherboard for unused DIMM slots in previous generations.
DDR5 WT (wide temperature) UDIMM offers the industry's fastest memory speed with 4,800MT/s - the perfect fit for any in-vehicle, surveillance, automation and embedded application.
The modules comply with all relevant JEDEC standards, can operate in temperatures (TC) from -40?C to 95?C, and are available in 8GB, 16GB, and 32GB capacities.
规格: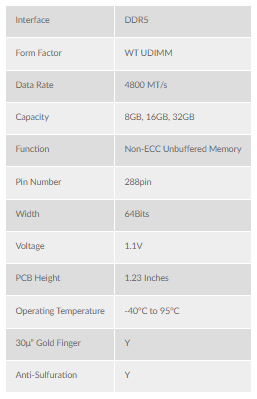 产品料号:
查看更多评论